Ever opened a website on your phone, only to see a jumbled, incoherent mess?
These days, it's not enough to simply have a website that works, especially if you're a local business. As more and more users start to use their phones and tablets to search the internet, responsive websites are becoming increasingly important.
That incoherent mess of a website probably works totally fine on a PC or Mac. Even a laptop would support it. But once you use your phone, it's unreadable. 8 years ago, this wasn't much of an issue. Not many people used smartphones and tablets.
Now? A little more than half of all internet traffic comes from mobile devices. That's huge, no matter which way you slice it. And seeing as mobile devices are the main source of local searches, you absolutely need to take it into account.
The best way to do that?
Responsive Web Design
Responsive web design is when a site automatically changes its layout to conform to different screen size. This means it covers pretty much every device out there.
Basically, a small screen would combine the content of a page into one column, and scale down large images. A responsive site scrolls up and down on a phone, not left and right. It doesn't need you to zoom on, and it certainly doesn't have tiny buttons either.
Though there are many reasons to go responsive, here are the top three:
Mobile Usage is Increasing
As I mentioned before, half of all internet traffic comes from smartphones and tablets. This is reason enough, but the justification grows when thinking about it from a local perspective.
When people search for products or services in their town, they're most likely gonna be doing it outside, on their phones. It's quick and easy. And if they happen to see your site and enter it only to get a desktop website, they're leaving. That's a potential client lost to a competitor, all because your site isn't optimized.
Google Loves Mobile
As of 2016, there are about 2 billion smartphone users around the world. For many of them, a phone is their only gateway into the internet. The need to cater to these users is clear, hence Google's reaction.
Responsive design is quickly becoming a critical factor of Google's (and other search engines) ranking system. A site without it will simply not get into the coveted first page.
In 2015, Google started boosting sites that worked across all devices. It's now a fact that mobile-friendly pages are a must.
If you want your business to rank anywhere near the top, you need to embrace responsive design.
Improving User Experience
This should go without saying. A responsive website is easier to use. Seeing as how your website is practically a virtual storefront, you want to give the best impression possible.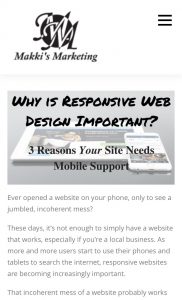 Having a fast, mobile-friendly website gives a great impression. It feels modern. On the other hand, a clunky, unresponsive site gives off a feeling of inattention. Nowadays, a company that refuses to invest in its website is seen as behind the times.
Here's another way to think about it. If a customer finds your local business and enjoys your service/product, they're likely to return to your site, but what if they use a different device? If they're going from a laptop to their phone, a responsive site maintains their experience.
An unresponsive site would be harder to use and probably cause them to look your competitors' website instead. The customers of today know how easy it is to find someone else.
Couldn't I Have Two Websites at Once?
While browsing on your phone, have you ever seen a site with an "m" in its domain name?
A good example would be m.wikipedia.org. It's the mobile version of Wikipedia. You might think that makes it responsive, but it doesn't. The mobile version is a different site. When you enter the site on your phone, you're taken to the mobile version.
This may seem like a good idea, and for a lot of companies it is, but in general it's not. A mobile site needs to be consistent with the main site, and maintained just as much. Worse, it makes you work a lot harder. One website is bad enough. Two websites are double the trouble. Responsive sites are simply one site that adapts to every screen.
Then there's the costs. It's obvious that mobile sites can set you back considerably more than if you stuck with one site. So in a business sense, responsive design wins.
Lastly, users prefer one site, since mobile sites aren't the whole package. The Wikipedia mobile page, for example, is missing half the content that the desktop version has. Plus, it's common to visit the same site across different devices. People like consistency.
A mobile app might be a good alternative, but they're incredibly expensive. Responsive design provides the benefits at a fraction of the cost.
Responsive Web Design is Important For Your Business
As even more people start to use mobile devices for searches, competition for those searches will heat up. Of course, only the mobile-friendly sites have any chance of ranking in the first page.
If you're currently investing in a website, it would do you well to ensure that responsive design is included, especially if you're a small business. It could make all the difference in the long run.
Makki's Marketing is a marketing company specializing in web design and local SEO. Contact us for more information on how to improve your web presence.
Save
Save
Save
Save
Save
Save
Save
Save
Save