Is Your Website Turning People Away?
Your website is the internet HQ of your business. Yeah, you may be doing a lot of Facebook and Twitter, or maybe some Yellow Pages on the side, but your website is the core of it all: it's where interested leads go to learn about who you are and what you do. It's your virtual storefront.
Unfortunately, that virtual storefront is occasionally riddled with mistakes, sometimes because it's not prioritized in the least, and other times because the owners just aren't familiar enough with web design to identify these mistakes.
At best, big errors in web design make you look inattentive to your online base. At worst, you look like you settled for a cheap solution instead of raising your standards. For some people, a bad website means a bad company.
That said, here are 5 common web design mistakes that your business website may be suffering from.
1. Missing/Broken Links
I've seen this across too many small businesses. Text that should clearly be clickable is just that. Text. This is a very avoidable mistake, but it can hurt your credibility. Some sites even have links next to non-links, which makes you wonder what kind of designer they hired.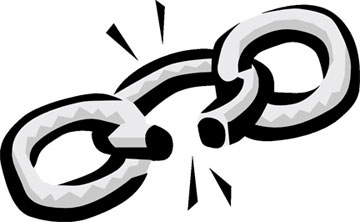 Imagine you visited a site, then tried to click "contact us" at the bottom, only to find yourself clicking on words. That's just bad user experience, and might lead to your visitor hitting that "back" button in a heartbeat.
Likewise, having a link that goes to nowhere is even worse. Broken links hurt your rankings in search engines, and give your business a bad image. Use free tools like the broken link checker to identify any bad links you may have.
2. Too Few Images
Every good site needs pictures. Otherwise it wouldn't look very good. This is especially true for local businesses, where images build trust.
If you don't have any images of your storefront, or your team, you're missing that genuine feel that local business prides itself in. The more transparent you are, the more visitors are likely to contact you.
It's also a good idea to add pictures of your products or services. This is great for informational purposes, which is the main goal of your site in the end.
Images also balance out text, making pages and articles easy to read.
Speaking of articles….
3. Not Having a Blog
It's amazing how many business websites neglect to start a blog. As they say, content is king, and not having any on your site is very detrimental.
You may not think blogs are that important, until you see how beneficial having one is. Google and other search engines love blogs that create quality content. To them, it means you're relevant. This means higher rankings for you.
A blog also strengthens your reputation in your industry. Rich content can generate great PR, because it does get noticed by authorities in the industry.
People love to read blogs. In fact, 60% of businesses that blog get more leads than those that don't. This is because blogs humanize your business. It gives your brand a voice, a personality. Plus, they make great sharing material for social media. This works especially well on Facebook, where articles get a lot more clicks than simple ads.
4. Hard to Use
Not to toot my own horn, but the website you're reading now is easy on the eyes. The text is the right size, and the font isn't anything too stylish. Most importantly, it's all black text on a white background.
The last one is critical. It may not seem like a big deal to have white text on a black background, but doing so totally works against you. White text can make reading very hard for many people, and strains eyes. And making the text too small can also alienate weaker-eyed readers.
Your website has to be very easy to read and experience. Too many images or ads make it look cheap or shoddy. A clean, uncrowded view gives the best results.
5. Not Using WordPress
This is the most subjective item on the list, but it has a lot of merit.
Many small businesses owners pay to have sites made are using unique software, or just simple HTML. This means that if you need to make any change to the site, you need to call up the designer and pay him/her to fix it.
Those owners probably don't know that the whole process can be a lot easier if they hire web design company that uses WordPress for their websites.
WordPress is a content management system (CMS). It makes changing and updating a website much simpler for a layman. You'd still need a web designer, but small changes could be done on your own.
If you have to call your webmaster to change a tiny detail, you're doing it wrong. WordPress is the best way to go, and you shouldn't hire a developer who won't use it.
Be on the Lookout for These Errors!
You may not have noticed, but your site could be suffering from these problems. Some are very subtle, but others are hard to miss.
The important thing is to get in touch with your webmaster and fix the mistakes. They could be the reason you're not making the most of your online leads.
If that's not an option, our web design service is always an option. We build high-quality WordPress (of course) websites and allow you to make small changes as well. Don't put up with a website full of errors. This is your business we're talking about!
Makki's Marketing is a web design and SEO company that proudly serves Fort McMurray, Edmonton, and the whole of Alberta. Call us today for a free consultation, or send us an email here.
Save
Save
Save
Save