Does My Business Really Need SEO? What's the Point?
If you're reading this, there's a pretty big chance you're a business owner interested in improving your online presence, or more specifically, local SEO.
While more and more small businesses are starting to focus on their internet marketing efforts, their energy is usually targeted on having a website built and using social media.
Don't get me wrong, those are two of the things you absolutely need. But local SEO is the most important one. Sadly, though, too many local businesses think that SEO is unneeded for their line of work.
10 years ago, this might have been true, but today? Almost every kind of business stands to benefit from the advantages a good strategy can bring.
Local Searches are More Frequent Than Ever
According to Google, 100 billion searches are performed every month. Of these, half are said to be "local" searches. True to their name, these searches are done to find information about services, products, and locations around the user.
50 billion local searches is a lot. People, and especially younger people, are using the Internet to find what they're looking for, and if your business isn't easily found, there's a problem. As a business owner, it's imperative to be highly prominent where your target audience is. In this case, on the search engines.
How It Works
Local SEO works by optimizing your website, and your company in general, to appear on the first page of search engines like Google and Bing.
Suppose we're in Calgary and need a dentist. Here's the search results page for "dentist calgary," which is what we'd probably use.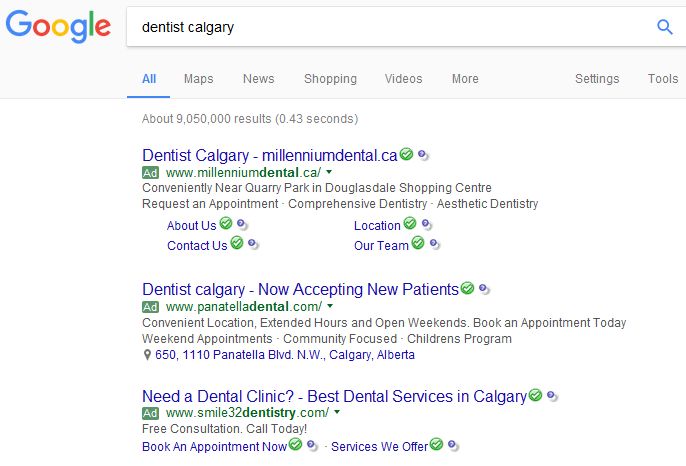 The first part of the results are ads. Ads have their role in SEO, but while you might think they're an easy shortcut, the truth is that organic SEO is much more cost-effective and longer-lasting.
Anyway, after the ads comes the Map pack, which is the most prominent place a business can find itself in.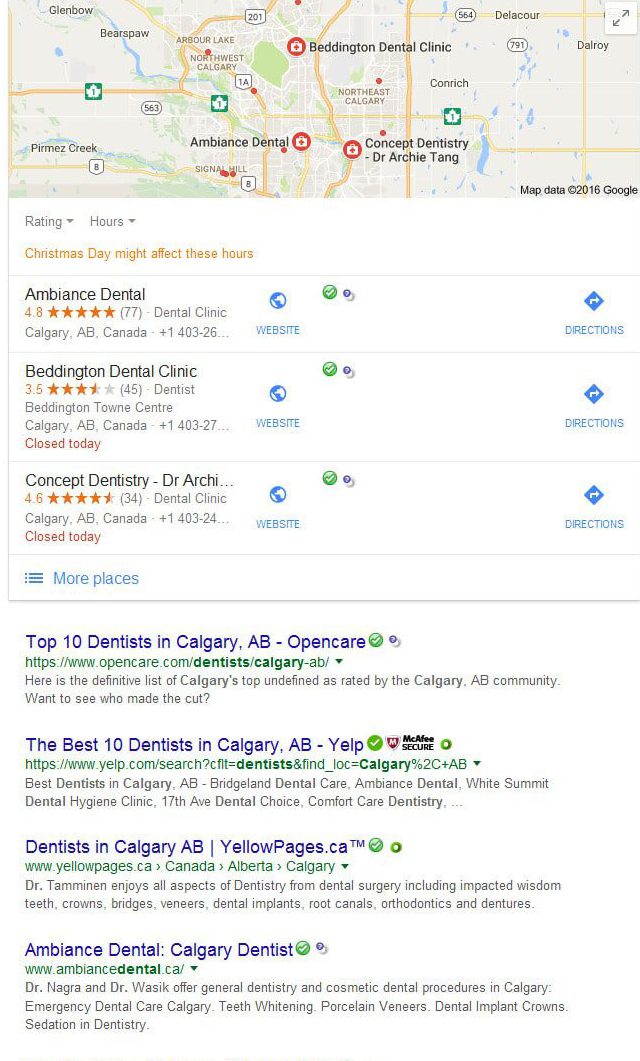 There are a lot more than 3 dentists in a huge city like Calgary, but the ones making the most of local SEO are more visible than all others. The other ones are hidden behind "more places." Not the best place to be noticed.
If you were to search "dentist calgary," you would surely visit the website of, or even phone, one of these clinics without even looking (or caring) that there are at least a dozen others in the city.
This is where local SEO is so important. In an age where people's attention spans are so low, it's unlikely they'll look further than the top 3.
Below the Map pack, you'll see the regular results. The top pages are directories like Yellow Pages and Yelp, but right below them is Ambience Dental, which is in 1st place in the Map pack!
Thanks to the power of local SEO, Ambience Dental is in the best position possible. It's first in the Map pack, and in the organic listings. And as you can see in the first screenshot, they don't even pay for ads!
So They're First. Why is That So Special?
When a user searches for "dentist calgary," they're searching with intent. They want to know more about a service so they can call them. You don't search for dentists because you like reading about them. You search because you have toothache, or a gum infection.
This is why local searches are so much more valuable than regular searches.  87% of local searches result in a visit or call. You can bet Ambience Dental is getting a lot of business by investing in SEO.
Another thing to consider is the competition. By being on Page 1 of the results in the first place, Ambience is already ahead of 95% of the other dentists in Calgary. Remember, Page 2 might as well be page 10; most of the action goes on in Page 1.
Aren't the Ads Profitable Too?
Paid search engine ads give you a top spot, but something you need to know is that many people don't click on ads. They see them as untrustworthy. After all, it does say "AD" right there. Local SEO is much more "legit" in the eyes of many.
I won't say ads are useless; far from it. They're just not as useful as local SEO rankings.
None of My Competitors Do This!
Many business owners don't bother with local SEO, mostly due to unwillingness to change. But it's their funeral.
Let's go back to Ambiance. They're in the best position possible, ahead of everyone else. The other 90% of clinics around them are in the depths of Page 2 and beyond. The other dentists would do well to invest in their SEO, but Ambiance is established in a very competitive industry. It's gonna take a lot of work to dislodge them.
Of course, that's the value of doing it first. You get a huge headstart, and you'll find that the business in Page one for your industry will be overtaken very easily by a strong SEO campaign.
Still, chances are your competitors are doing this. It's not the most prominent form of marketing. You just don't notice it until it's done.
Can I Do Local SEO Myself?
In this day and age, it's getting more and more important to be visible online. As a business owner, you need to take advantage of the leads that SEO can generate for your company.
While you technically could perform local SEO yourself, it's not recommended. SEO takes a huge amount of time to learn and execute. You'll find that your time is best suited running your business. I realize I may seem biased, but it's the truth.
Hiring an SEO company frees up a lot of time. These businesses know the ins and outs of the field. Sure, you could have a go at it yourself, but this could lead to big mistakes that in turn will require an SEO company to fix. It's best to do it the right way.
At Makki's Marketing, we specialize in local SEO for local businesses in Fort McMurray and Alberta in general. Feel free to get in touch (you get a free quote!) so we can help your business get to the front and center of the search engines.
Save
Save
Save