If you've been neglecting the online presence of your business, you may not be aware that you can't even see it while using the Internet. Given that more than 70% of people search for a business or service online before using it first, it's completely necessary to invest in internet visibility these days.
Basically, in this age, not having a quality internet presence is equivalent to not being in the yellow pages in the 20th century: just a bad marketing choice.
Still, many business owners are totally oblivious to the invisibility of their company, or don't know how to survey their situation. Some may even have a website, but get no visitors due to bad SEO. Luckily, there are lots of easy ways to evaluate your online visibility.
First Things First: Do You Have a Website?
It's unlikely, especially if you're reading this to begin with, but you may well be looking for advice without even having a website yet.
Let's be clear: you can't hope to be visible at all if you don't have a website in 2017. Maybe if you're the only one in your industry around town, but that's the exception.
If you don't have a website, you need to get one. Otherwise nothing you try will work. A Facebook page won't cut it, either.
Is Your Site Indexed in Google?
This is the best place to start. Obviously, before wasting time on other promotional strategies, you need to make sure Google acknowledges your site in the first place.
To do this, simply type "site:yoursite.com" into the search bar. Here's an example with this website: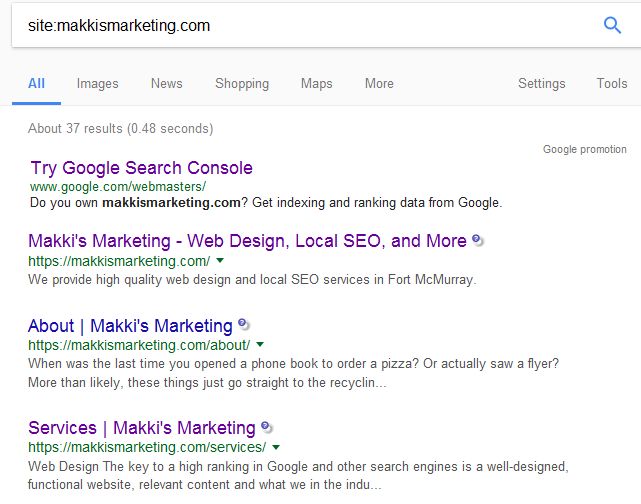 This may seem useless at first, but it's really not uncommon at all to have a website that isn't on Google. It usually happens to small business owners who neglect to optimize their homepage.
Remember that performing a site:search only shows if you have a presence or not. It doesn't show you how high you are in the rankings. But there are other methods for that.
Your Google My Business Listing
See that map of businesses that appears when you perform a local search? That's the Google My Business results area.
When you click on one of the businesses, you'll see a bunch of information. This is a GMB listing, and it's extremely important if you wanna get found online. So your best course of action is to optimize it.
Unless your business is brand new, it most likely already has a GMB listing, since Google takes data from directories like the Yellow Pages to list the businesses. But this listing is most likely unclaimed, which means the info may be outdated.
This is really hurtful to your business. If you changed your closing time from 8pm to 6pm a month ago, and someone searches for your service, they may well not get answer. You'd be closed, and your info would be wrong. There goes that lead.
Thankfully, claiming a listing is very easy. Just search for your service, and if your business isn't in the top 3, click "more places," which leads you to the list. From there just find your business and click "own this business?" From there it's pretty straight forward.
If you don't claim your GMB listing, your business won't enter the top 3, which is where the action is. Claim it, and be quick about it!
Are You on Social Media?
For many businesses, a Facebook page is enough of an online presence. It's a horribly misguided idea, but it has merit.
Facebook is just so popular that many leads are generated just by being active online. And as Facebook business pages grow more sophisticated, they'll be that much more useful for interested customers.
Being active on social media is a must. It's where pretty much everyone is. Facebook is definitely the most useful, but Twitter, Google Plus, and Instagram are also their business pages more attractive.
You don't have to be active on every social media platform. Depending on your audience, you may end up using a couple, or even one, which is probably gonna be Facebook.
Review Your Directory Listings
GMB isn't the only place your business is listed. There are other directories where your business info is displayed, and you want that info to be up-to-date and consistent.
The big fish here are your business name, address, and phone number. They're the core of your listing info, and they gotta be accurate.
I can't name every directory here, but some of the big ones are Yelp, Yellow Pages, Foursquare, and TripAdvisor. You don't have to have every listing imaginable, but cleaning up incorrect info is a must on the big sites.
Are You on Page 2 (or Lower)?
All these visibility checks are useful, but only to an extent. This is the most critical step. Search "your service+your town/city" and see if your site makes it into the first page of Google.
If it's not there, you're in trouble, especially if you're in a crowded industry: 91% of users never go past page 1 of Google. A site in page 2 is basically non-existent.
Getting to page 1 means a lot more visibility. It's organic promotion at its finest. The only problem is, it's easier said than done. Most small businesses hire SEO companies to accomplish it, and for good reason.
It's technically possible to perform SEO yourself, but the know-how needed and the time required to perform it well make it quite costly. As a business owner, your time is better spent on, well, your business, and leaving the SEO to be done once, and done right. It may be pricey, but it's better than doing it wrong and having to correct it (I'm speaking from experience here).
As long as you're not on the first page these days, you're missing a ton of business. If you're interested in getting your company front and center so you can nab that business, Makki's Marketing offers a robust local SEO service. With us, you can make the most of the leads the internet can bring you.
Makki's Marketing is an internet marketing company based in Fort McMurray, Alberta. We specialize in web design and local SEO. Give us a call or contact us now for a free quote on our services.
Save
Save
Save
Save
Save