Do I Need Local SEO in Fort McMurray?
Over the course of my work in SEO, one of the most common questions I get is, "is it worth it in a town like this?" Basically, is SEO really worth doing in a small town, namely Fort Mac?
The idea is that because the population is small, businesses don't need to improve their internet marketing, because everyone already knows them. This is a dangerous mindset, and it'll only hurt those businesses in the long run.
To some people, Fort McMurray is a small town. But is it really? A population of around 80,000 (before the wildfires) usually means a city, or at least a large town. It's true that many people won't come back after the evacuation, but we can be sure that at least 50,000-60,000 are present, and that's before the major rebuilding starts.
The point is, the town is pretty big. It's at the point where investing in SEO and digital marketing really bears fruit. And remember, it's still growing! As the town continues to expand, and new businesses spring up, competition will rise, and those business will surely look to the Internet.
While more and more businesses are opening up to improving their online presence, I still hear many related objections to SEO in a small town. Some are perfectly valid, and others are just excuses:
Everyone Already Knows the Businesses in Town
The argument here is that people around town don't need to use search engines like Google to find businesses, because they already know which ones to use.
That has some merit. Using Fort McMurray as an example, everyone goes to Superstore/Save-On Foods/Safeway, etc for groceries. Walmart is also a go-to place for almost everything. SEO wouldn't have a huge effect on sales numbers for these companies.
But once you look past the obvious, it's clear that SEO is needed, especially for service-based businesses. Take plumbers for example. When you need one, how do you choose? These days, you'd search "plumbers fort mcmurray" and probably call one of the first few results.
This is especially common with people new to the area, or anyone unsatisfied with their last experience.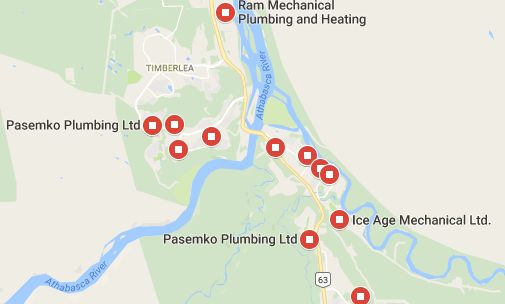 So what about the others? The map above shows that there's actually a ton of plumbers in Fort McMurray. But because they haven't paid attention to their SEO, they're almost unnoticeable, unless you go outta your way to find them. Of course, we know that's not common. In fact, if you zoom in, you can see more, but they have no online presence whatsoever.
And that's why local SEO is so valuable. Customers won't go into much detail when they want something done. That's why you have to be front and center.
None of My Competitors are Doing It
This is a huge misconception, but it's pretty understandable. When a competitor of your plumbing (my favorite example) company does a local radio ad, you're gonna know. Actually, everyone knows. That's the whole point!
Same goes for flyers or even billboards. They're hard to miss.
But the effects of SEO aren't noticeable unless you're actively interested in the business. This is why online marketing is so targeted. Sure, you can target 100,000 people on the radio, but what good does that do if 99% of that audience doesn't need a plumber? No one looks into plumbers in advance.
If you don't look closely, the benefits of SEO are only noticeable when your rival surpasses you in Google. At that point it's too late.
You may not think your competitors are doing this, but the truth is, they most often are, and they're taking clients that could be yours. And if they're not? All the more reason to get a headstart. A good SEO service can make all the difference.
I Have Little to No Competitors
While not common, some businesses really only have a few competitors. These have an online presence by default. A good local example would be pet stores. There are only a few here in the Mac, and a Google search would show you them all.
That doesn't mean SEO is totally pointless though. A good SEO campaign also works on social media and blogging, which increases the prominence of a business in the search results, and makes it stand out that much more.
Of course, other businesses truly have no competition. I have to admit, local SEO does have its limits, and if you're truly unique, it can't help much. But one-of-a-kind companies are hard to come across.
Online Leads are Just Like Any Other Lead
Another misconception. I can tell you from experience that a person actively searching for a service is a lot more likely to call or email a company than a person who's browsing.
These leads are extremely valuable: 76% of local searches result in a phone call, and 50% of all local searches result in a visit to the businesses. For businesses with high-value clients (realtors, lawyers, contractors, etc), even a few searches (leading to a few leads) could help them out tremendously!
Once you realize that leads from SEO convert much easier than traditional ones, it's easier to understand why online marketing has so much potential.
Honestly, I've only heard this one a few times. It's not really a common concern at all.
Not Sure Where to Start?
Now that we've cleared up some common misconceptions and FAQs, you might be interested in SEO for your business. While it is possible to go at it yourself, I strongly advise against it.
I realize I'm not exactly neutral here, but the fact is many businesses that try to perform local SEO themselves instead make it worse, and have to bring in an expert to do it over again.
Remember, Google changes itself constantly. What worked a year ago may not apply now. Hell, what worked a month ago may not apply now. You can't read a blog post here and there and expect to know it all.
My advice? Do it once, and do it right. SEO companies know what they're doing, and can help you be front and center online.
Makki's Marketing provides effective SEO and web design services to businesses in Fort McMurray and Alberta as a whole. Interested in our service? Call us today for a free quote! 
Save
Save
Save
Save
Save
Save
Save